Rightwing YouTuber and podcast host Tim Pool has seen his Youtube views plunge in the aftermath of the 2020 Presidential election. Pool's view count has decreased 51% from 88.3 million views for October 2020 down to 42.9 million in April 2021. 
Despite this, Pool still ranked as the second most-watched rightwing YouTuber in April, with the American-Canadian comedian Steven Crowder taking the most-viewed crown (with 46.1 million views). This marks a reversal of fortunes for the two creators. Our previous rightwing Youtube viewership analysis revealed that Pool was reaching more than double the number of viewers than Crowder in September. When it comes to the average views for their last 100 videos, Pool averages half a million fewer views per video than Crowder. This lands Pool in sixth place for average views per video among the top ten conservative YouTubers.

Although Pool's overall viewership figures are down his Timcast IRL podcast is showing strong growth and his influence in conservative political and media circles is only growing stronger.
Where Do Other Conservative Youtubers Rank?
The list of top ten rightwing Youtubers has changed somewhat since our last analysis. The only Youtuber not to change position is Jeremy Hambley – more commonly known as TheQuartering, who still languishes in tenth place. As previously mentioned, Crowder is in the pole position when it comes to views, followed closely by Pool. (Our list does not include Youtube channels for any mainstream or large rightwing media organisations such as Fox News, Newsmax, or the Daily Mail. If we included these in our analysis many would rank higher than the Youtube channels we have focused on below).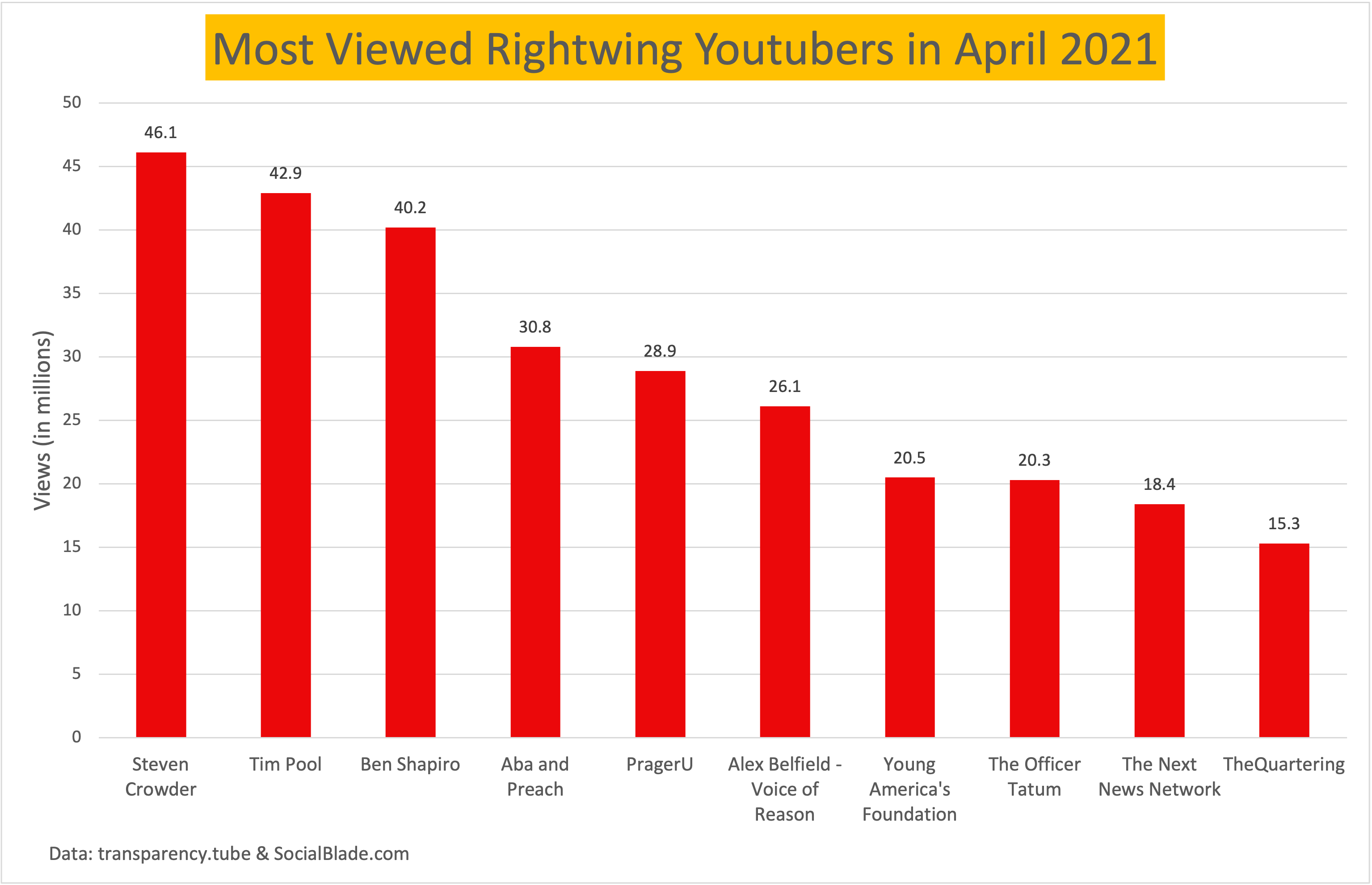 Since our previous analysis, Ben Shapiro's show has moved from its former home on The Daily Wire's Youtube channel to his own channel. The far less popular Daily Wire B team have struggled to fill the vacuum Shapiro left behind. As a result, their channel's views have plummeted into the low millions. In just a few months, The Daily Wire has gone from being one of the most viewed rightwing Youtube channels to struggling to crack five million monthly views. Meanwhile, Shapiro has risen to become the third most-watched rightwing Youtuber. 
The rest of the top ten list comprises of:

4) Aba & Preach: an anti-woke reaction/commentary channel.

5) PragerU: a conservative advocacy group cosplaying as a university. 
6) Alex Belfield: a UK-based former radio presenter and strident lockdown, mask, and BBC critic.
7) Young America's Foundation: a conservative youth group.
8) The Officer Tatum: a former police officer and current conservative commentator.
9) The Next News Network: a partisan 'conspiracy' channel.
10) TheQuartering: a middle-aged man who gets angry online.
To compile this list we combined data from the website transparency.tube and analytics firm SocialBlade disregarding any mainstream/large media organisations or misclassified channels.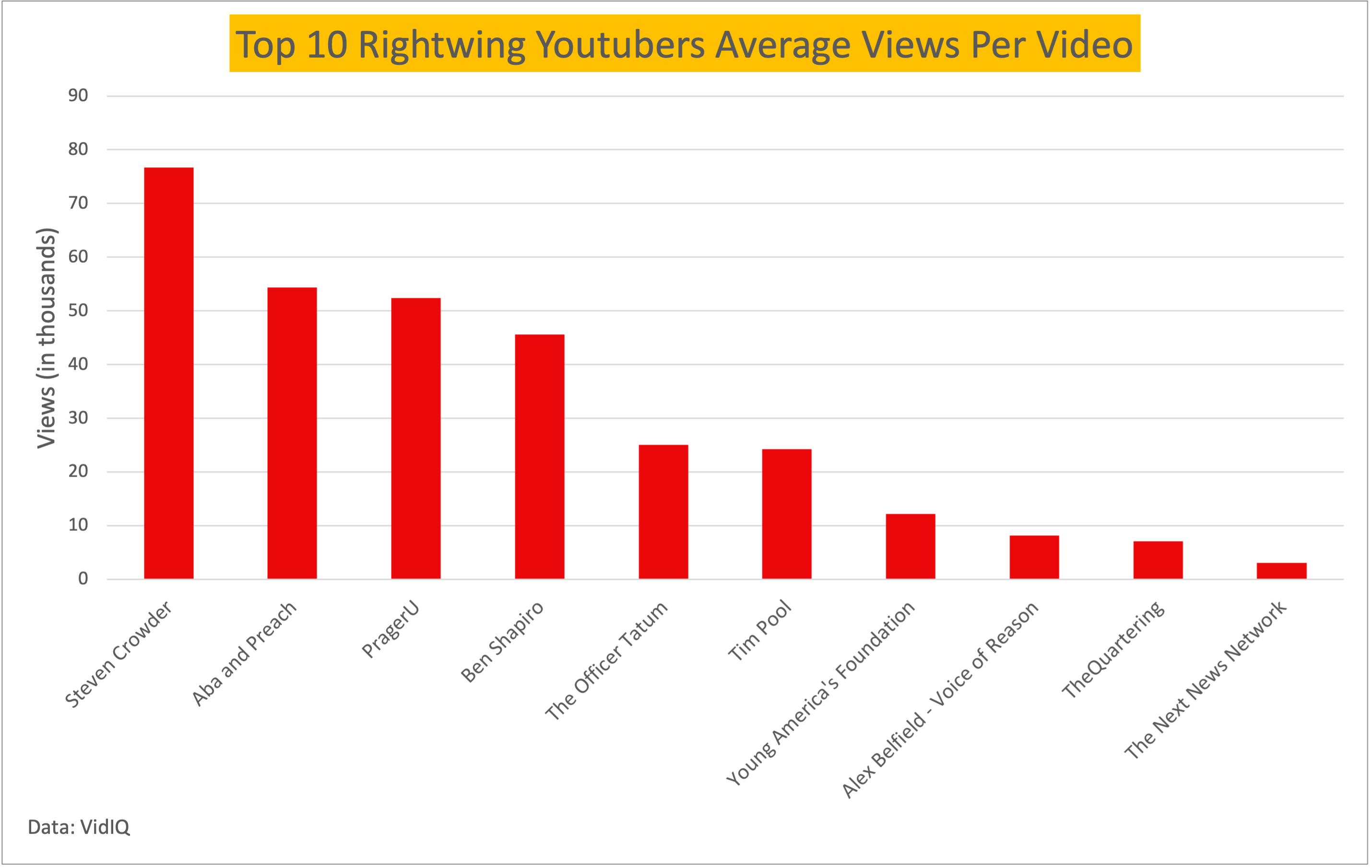 Why Were Pool's Views So High
?
Pool's decline follows an explosive growth in views during the summer of 2020. Between April and September, his views more than doubled up to a peak of 98.5 million views, according to data from the social media analytics firm SocialBlade. Pool's growth during this period is attributable in part to his obsessive coverage of the wave of protests that followed George Floyd's death in May 2020. Pool's first video of the day would often feature him raging about events related to protests from the previous day. 
On at least 70 occasions, Pool warned his audience that an amorphous "they" made up of an 'out of control mob' of black lives matter and left-leaning protesters would "come to your house." At times Pool warned that this mob would drag innocent conservatives out of their homes and leave them powerless to fight back. Pool also started buying guns and encouraged his audience to do the same. His terror finally came to a head when he decided to flee the suburbs for the relative safety of a Maryland compound now worth an estimated $1.2 million.
Pool's hyper-partisan commentary regarding the upcoming presidential election also likely played a role in his eye-watering viewership figures.
Why Have Tim Pool's Views Gone Down?
After his meteoric rise came Pool's stagnation and fall. Between August and September 2020, his overall viewership figures levelled off, and beginning in October, his views started to decline. Pool's decline in views continued until February 2021, when they levelled off and began to increase by a very modest 1 million views per month.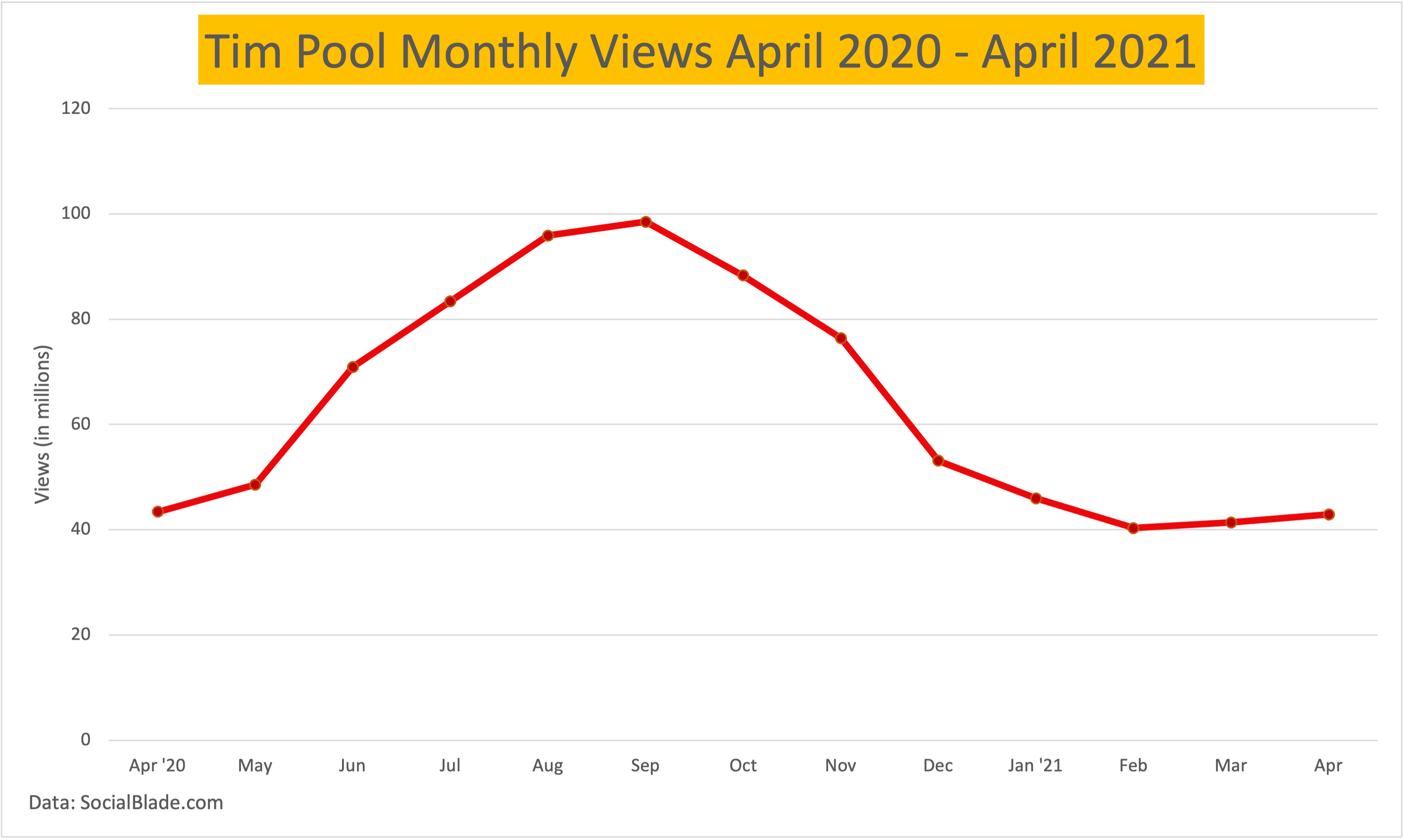 Several factors explain Pools decline in views. Chief among them is Pool's decision to adjust his business strategy. Since January 2019, Pool had consistently uploaded five videos per day to his secondary 'Timcast' channel and another video on his main 'Tim Pool' channel. Then on December 1st 2020, thousands of videos and nearly a billion views later, he announced that in efforts to "make the world a better place," he would be scaling back his video production. Pool's new plan was to release two videos per day on his Timcast channel and one on his main channel. He also shifted more focus to his nightly weekday livestreams on his Timcast IRL podcast channel. In recent months the podcast has seen steady growth and pulls in well-known guests from across the conservative media spectrum.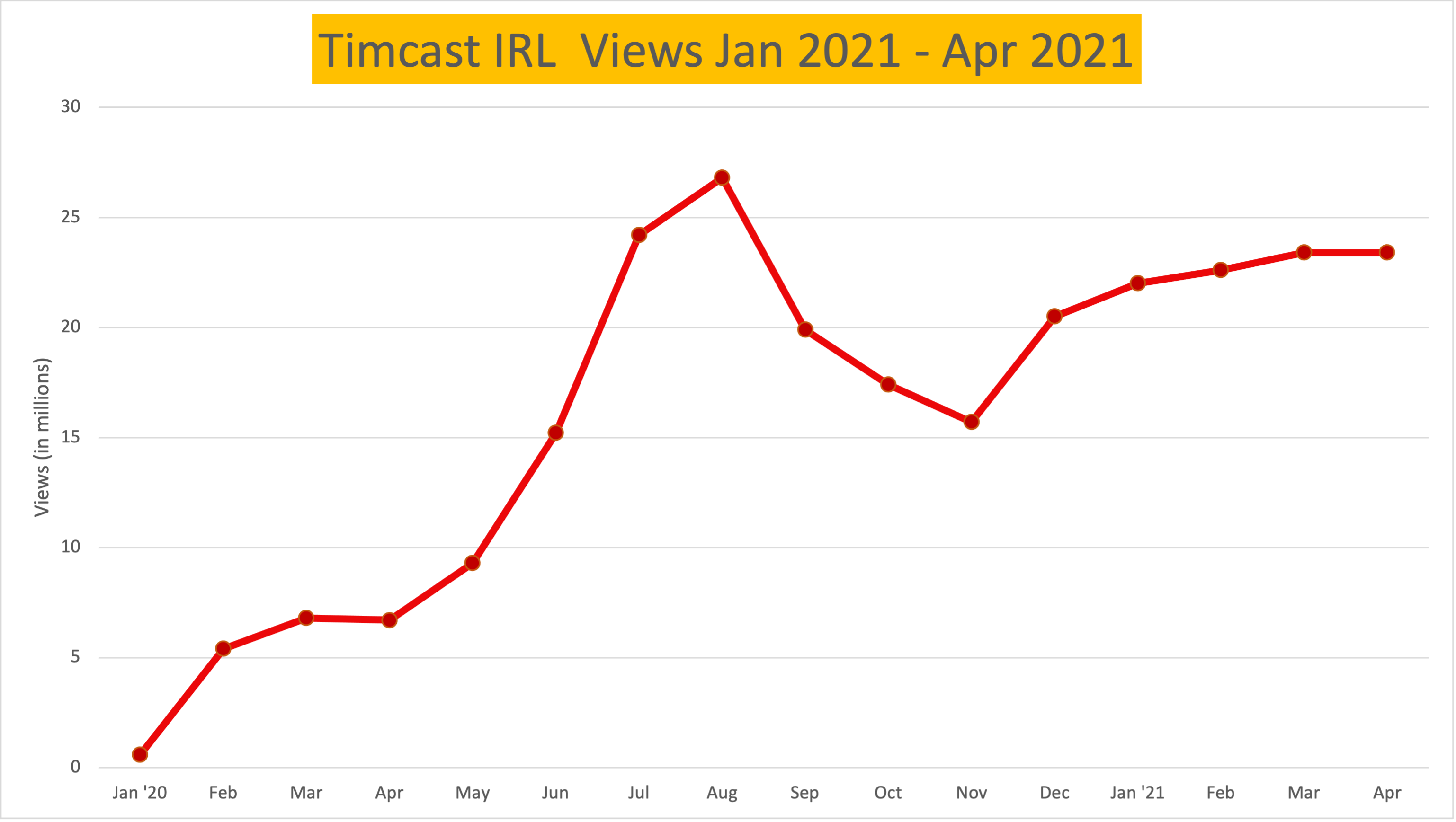 Soon after Pool's shift in his focus, he launched Timcast.com, a members-only website featuring exclusive content with sign-up options ranging from $10 to $1000 per month. He has boasted of sign-up numbers in the thousands, though precise figures are lacking. In December, Pool also announced he would be creating a vlog channel to help build "culture." This channel which he christened 'Cast Castle', has subsequently been launched to initially lacklustre success.
Although these changes go some way to explain Pool's drop in views, they cannot be the sole explanation. While Pool's decline in views accelerated in December, the downswing began in October. Moreover, Pool's drop in views preceded the general decrease experienced by media outlets from across the political spectrum following the presidential election and President Biden's inauguration. His decrease in views also preceded the dip that similar rightwing channels experienced following the election (see below). In October, before a single election result had been announced, Pool dropped 10 million views, followed by a further 11 million in November. In December, his viewership figures fell another 23 million.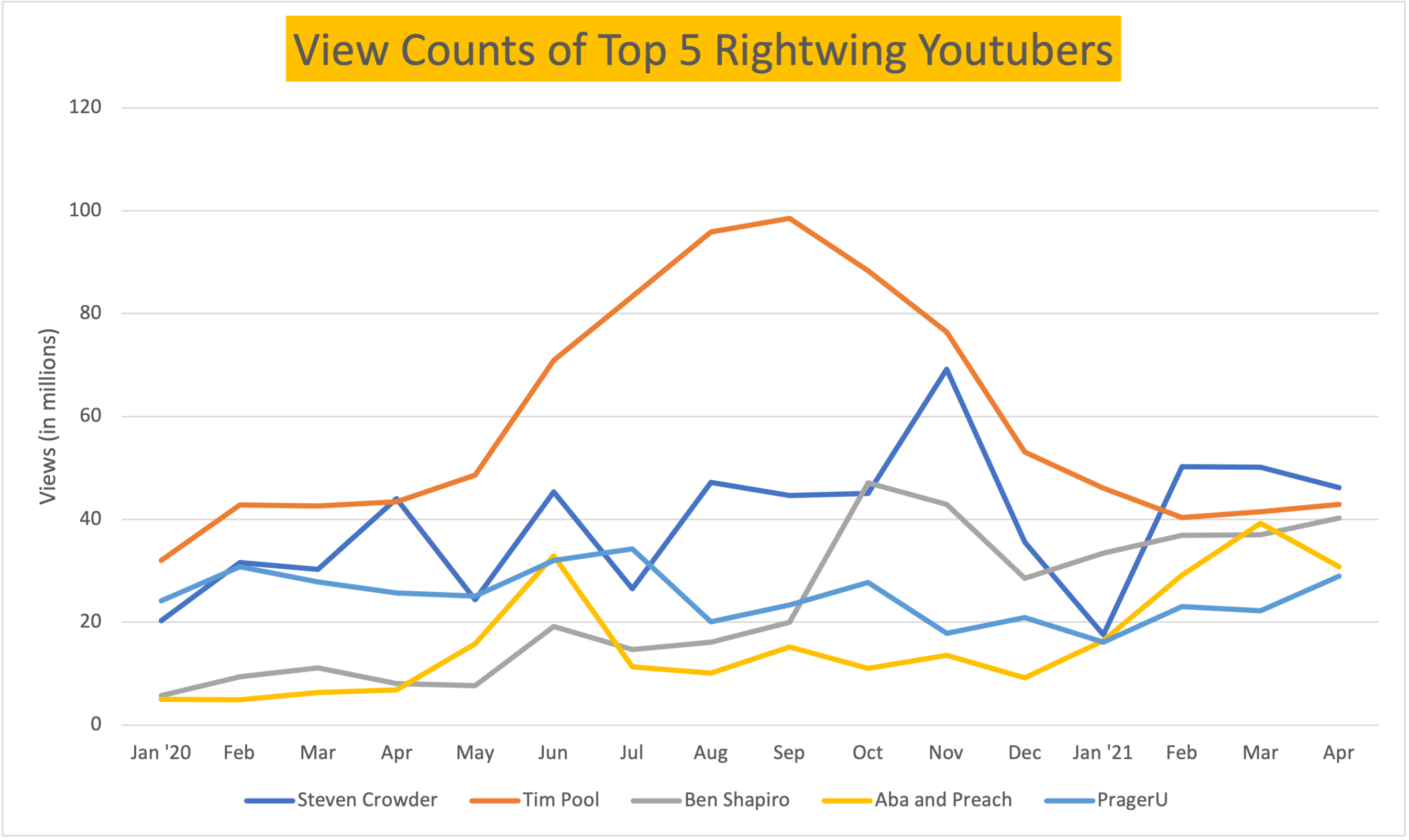 The reasons for Pool's drop in views in October are unclear as his upload schedule held steady throughout the month. Possible explanations are that Pool's coverage of the election was not deemed exciting enough for his audience. Alternatively, perhaps as black lives matter protests slowed, the circumstances left Pool with fewer highly emotive stories to craft narratives around.

Conclusion
In our last analysis of Pool's views, we noted, "perhaps it's time that 'angry man shouts at computer' becomes a story worth investigating." We are pleased to say several people have taken us up on this suggestion. Since September, multiple YouTuber's have published in-depth analyses of Pool's content e.g. this incredible video by Hey It's Vadim, or this as always amazing video by José.

At least two further videos on the same topic are still in the works. We were also pleased to see the recent (lighthearted) Daily Beast story about Pool allegedly kidnapping a former employee's cat. Rumours of other upcoming media coverage of Pool also continue to swirl in journalistic circles. Several sources have confirmed to Grftr News that they have been contacted for an article in recent months. If accurate, this would be welcome news because while Pool's view count may have halved, his influence is still on the rise. Recent Timcast IRL podcast guests have included influential Republican operatives such as Texas GOP chair Lt. Col. Allen West and well-known rightwing media figures, including Alex Jones and James O'Keefe.
Tim Pool is no longer just an angry man shouting at his computer; he is a successful political pundit who has the ears of the powerful and the eyes of millions of ordinary Americans.
—
Grftr News relies on your support to continue. We don't have any outside funding and do not run advertisements on our website. If you would like to support our project, please subscribe to our Patreon. Patrons receive early access to our blog posts such as this and get a look behind the scenes or our work. We couldn't do this project without their support. You can subscribe to our Patreon here: https://www.patreon.com/TimPoolClips.
You can also make a one-off donation here: https://paypal.me/gftrnews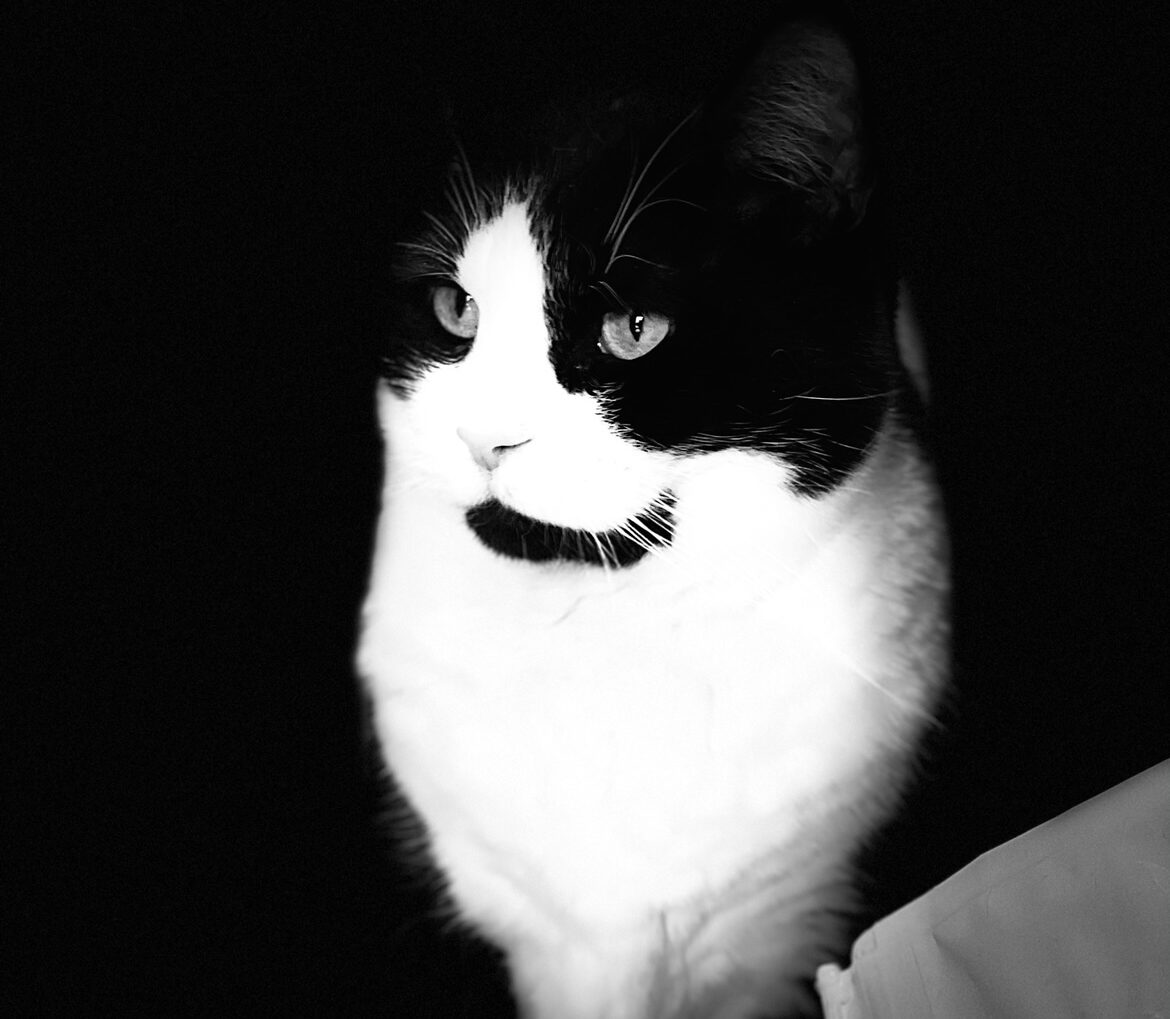 Jack Lawrence is the founder of Grftr.news. He is currently pursuing a master's degree in biomedical science and spends his free time writing about and researching misinformation and bad science. He also runs the @TimPoolClips Twitter project.